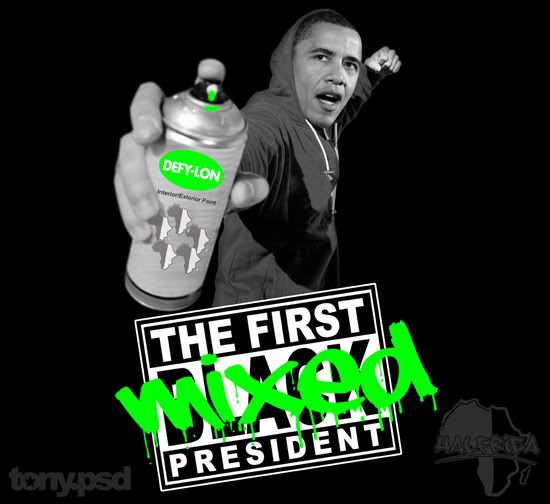 Not you average Barack Obama shirt... fresh drips included! (courtesy of Halfrica!)
Awww Yea... The designs approved and is out to the printers. I've had the pleasure to work with the very good folks at
Halfrica
and
DJ Air of 97.7 fm
(Los Angeles) in creating fresh designs for
mixed folks
that come together and identify the beauty and experiences of mixed races and cultures. Their clothing line breathes passion for mixed ethnicities and culture in a confident, innovative, and positive way. We've been wanting to work with each other for the past year and it's finally come together.
The brain child behind this concept was from
Air
and
Team Halfrica
. It started with a friendly e-mail explaining
"Halfrica is targeted towards people of multi race so with Obama being half black / half white, I feel I the need to put out something dope..."
The concept was straight forward... since tons of folks have already done the same story, we wanted something fresh. The idea was to whip up some photoshop work, done to look like he's holding a spray can... from there on out I worked the idea and something was missing... (the bottom concept was conceived later) I went through hundreds of old school album covers trying to find inspiration than realized this... just about every Hip-Hop album from back in the days had that recognizable
Parental Advisory logo
, letting folks know... there were bad words in the album, lol. So I flipped it and used Air's concept
"The First Black President"
inside of the PA logo with Barack tagging "mixed" with all the fresh drips! From there on out, we just had fun with it and prepped it up for print.
I'm very grateful for crossing paths with
Halfrica
. Big ups to my very good friend:
Art Chemist
for plugging me to
Air
and giving me an opportunity to work with her and her fabulous team. This project was more than just making some extra dough to get by, it had me learning about a very special culture raising eyebrows.