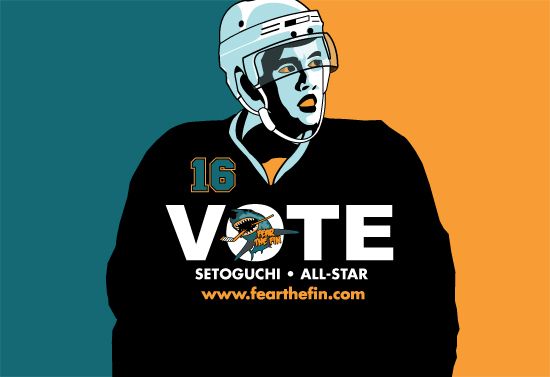 Golden State of Mind
gets some pretty heavy traffic here in the Bay Area... which is how I came in contact with the good folks over at
Fear The Fin
, a dedicated
San Jose Sharks
blogsite. I couldn't say no to helping these guys out and represent San Jose's hottest franchise (next to the Sabercats!) Our conversation was simple:
"Hey tony, can you help us out and draw some stuff over at Fear the Fin?"
(something like that...) That's pretty much how this concept became a reality... with guys like Marlou already getting all-star nods, they wanted to see if we could get a third participant into the all-star west lineup. The concept itself was recommended to be similar to the now infamous
"Obama Hope campaign"
but using Sharks-like colors.