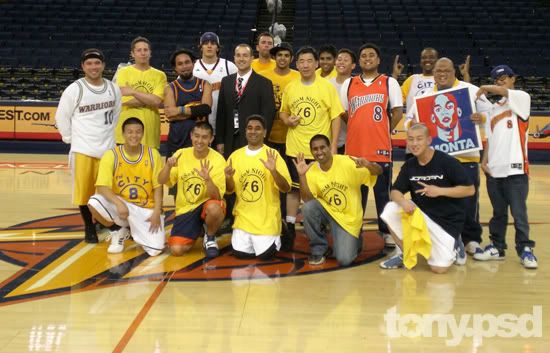 I am very fortunate to work with a special group of people who organize big events for Warrior Fans and our loyal following at
Golden State of Mind.
The idea of a
GSoM Night
event is simple, get Warrior fans, family and friends together and have a great time out! Special thanks goes out to Fantasy Junkie (of GSoM) and Chris Murphy (Warriors ticket sales) for organizing and planning each event.
GSoM Night
isn't just going out to a game. It's spending it with family and friends, hanging out and cheering your team on. Chris Murphy is also able to get big groups in sections where we can all sit together. I personally enjoy
GSoM Night
for some of the little perks... Going down to the lower level and watching the team shoot around is a big plus for my wife and I. We always have giveaways including a commemorative shirt that comes with the deal and the tickets are usually discounted which is great, especially with the state of our economy.
I had a real good time during the last
GSoM Night.
I spent it with my wife Gemma, which we celebrated our 9 year anniversary. My cousins came along and made it even fun. I also had a close friend who I've known since Kindergarten join us for the festivities. That's what it's all about, getting together with the Homies and cheering the team on for a victory. I'd like to thank GSoM, The Warriors Organization and all of its supporters for including me in making these events possible!