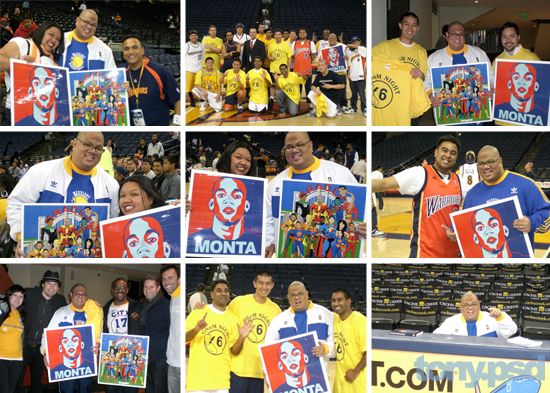 Big ups to everybody that made it out! Friends, Family, Fear The Beard and the GSoM Crew!
My wife and I celebrated our anniversary like no other. Rather than going out fancy with the fine dining and expensive gifts we celebrated with what little we had and bought two $30 tickets and hung out at the Oracle Arena to see our Golden State Warriors take on the Los Angeles Clippers. (it was also
GSoM Night 6!
) It's one of those nights you just can't forget. Spending good company with my loving wife, family, friends and getting the chance to take advantage of some of the fun perks within the Arena. (thanks to the GSoM Crew for all of that!) Who would have known Gemma and I would be on tv? (well my wife anyways with her
Ellis-obama like
signage!) Getting the chance to hang out court side with friends and shooting some hoops (I was injured lol) was also a wonderful and rare experience, we made sure we took a lot of pics to cherish the moment! (Thanks Chris Murphy!) Overall, celebrating our 9 year anniversary was a great time out!