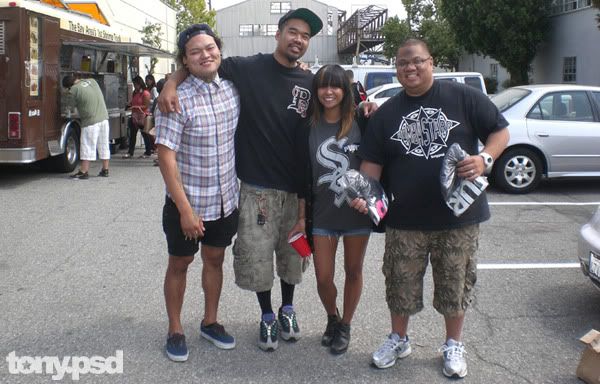 Left to right:

Booger Kids/Breezy Excursion, Hella Bastos x TurtleSpeed, Petals and Peacocks, Tony.psd
Yesterday I had the opportunity to attend the "Breezy Excusions 3 year Anniversary • Booger Kids Grand Opening • Local Support" event located in Cannery Park, San Jose. It was the first time I had ever attended such a huge label faire event in San Jose. With a hectic work schedule, living in the Solano County area and family events taking priority on the weekends - this was a wonderful
"first time"
event for myself. I spent a few hours checking out booth after booth and interacted with a ton of creative minded folks with some pretty slick shirt designs. Definitely not the last event I will be attending!
I also had the opportunity to break bread with the folks behind
Booger Kids/Breezy Excursion, Hella Bastos x TurtleSpeed and Petals & Peacocks
. Networking with these folks and plotting out some ideas was a great feeling. I've got nothing but love for all the folks involved in Cannery Park's event yesterday. I really needed this- interacting and building bridges with talented folks. I hope I can be a part of this the next time around!