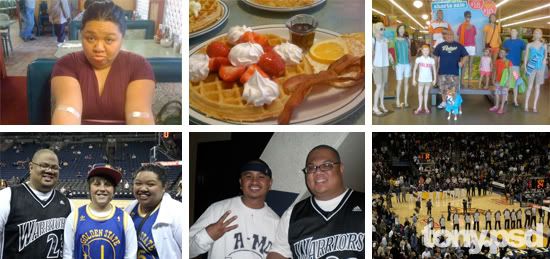 The vacation continues: from drawing blood, strawberry waffles to The Warriors final home game... life is good!
Now I know what being on vacation means. Shoot, it's only been 3 days and it's been so chill. The first 2 days were very relaxing, a lot of
Left 4 Dead
game time on the xBox 360 on Saturday and it was all family on Easter Sunday. (sorry no pics) It's been about 2 weeks since my incident in the Emergency Room and I know I need to relax in life. Whats so different is rather than taking a few days off, I'm living my life to the fullest putting work second over my health and being with my wife... and it feels great! (I really need this!)
I'm used to working on Monday but this was so different for us. Rather than start the day off working, We got up and donated blood... had some Waffles and did a little shopping which was very nice. This is the 1st time in a long time Gemma and I actually had some time off together. Today was also the final home game at Oracle Arena for our beloved Golden State Warriors. Another great time out! For what it's worth, it was a busy monday, but I'm totally loving it!