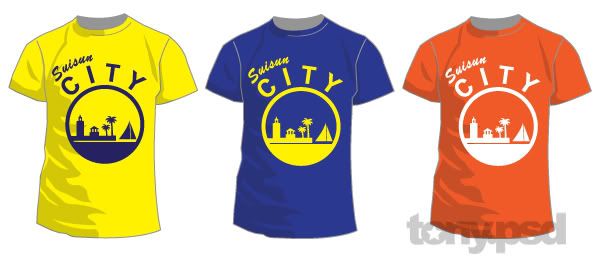 Representing
Suisun City's
historic
"Water Front"
district located in the heart of the city... peep:
www.suisun.com
I love my City...
Suisun City
that is! I wasn't born here, but it's the place me and my wife chose to start a family. It's pleasant, quiet and I love calling it home. If anyones gonna put
Suisun City
on the map, it's gonna be me LOL! You always here Rappers throw up where their from...
E-40's
got Vallejo CA locked down.
The Lox
represent Yonkers, NY. Actors
James Franco
(Spider-Man) represents Palo Alto and
Teri Hatcher
reps Sunnyvale CA! I may not be anywhere close to any of these folks based on popularity but I'm gonna put my City on the map! It's only right to show where you reside some love.
Concept wise... you've seen it before via the
Golden State Warriors
with so many variations circulating the design. I had my eye on this idea for a very long time. I just didn't want to freak it with the same old bridge, I'm just barrowing the Suisun's Water front idea and adding some Golden State flavor on top! Shirts are gonna be limited, mostly for me and the 3 other people I'm good friends with here!