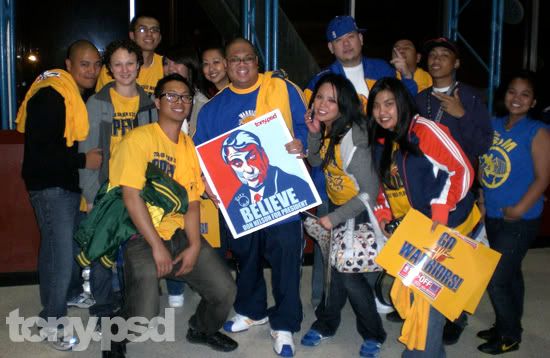 Warrior Fans seem to always roll deep... we like family when we roll up into the building!
I'm touching on a subject matter someone on
Comcast Sports
brought up during the Indiana game last night... no matter how bad our economy is struggling along with Golden States disappointing record, we are still able to sell out Warrior Games! I don't know how we do it but it happens on a regular basis. Shoot, I could be broke as joke with payday a week away but I always find a way into the Oracle. (legally, lol) Of course thats something to be proud of, it represents how dedicated us Warrior fans are. I couldn't speak for other teams struggling to get their attendance up, but for us it's such a dedicated feeling... Toronto comes into town or even Oklahoma City and The Oracle Arena is a packed house!
We as fans bleed Golden State Basketball. We can stink up the joint and lose by 30 points but the fans will always be there. Is it the $9 dollar beers and $7 dollar hot dogs bringing folks back? The over priced
"Foam Fingers?"
What ever the deal is, for every Warrior Game you go to, it really is
"A great time out."
I remember reading on GSoM someone trying to organize a walk out... or stop attending Warrior Games, how do you organize that with +18,000 in attendance to a game? When I think of bad ownership, I sort of leave that on the message boards and forget about it when I get to the game. Warrior fans, just keep doing what you're doing.