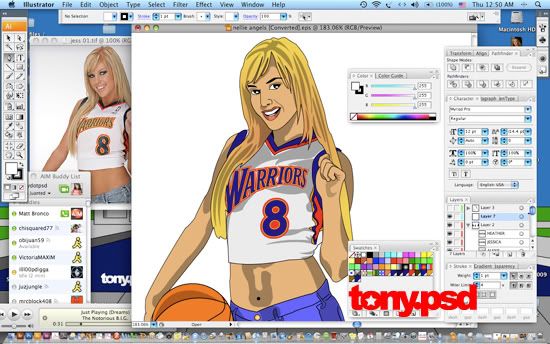 Rowell and Cohan made a big mistake... ya'll should have let Jessica stay with the Warrior Girls.
Sometimes, I wish my laptop would have identical dual monitors. There's a lot going on in my desktop when I try do work. Thankfully my Mac makes it easy to navigate various tasks like seeing who's on-line in my
Instant Messenger
or getting quick access to
iTunes.
Thank goodness for the
dock
below that displays other applications, that's a plus! Within the coming weeks, I'll be making the switch to
Adobe CS4
, and there's already a lot of different palettes I use to get my work done... I heard theres gonna be even more perks in the new version! As long as the illustrations remain looking fly, maintaining an organized desktop is like cleaning your room!