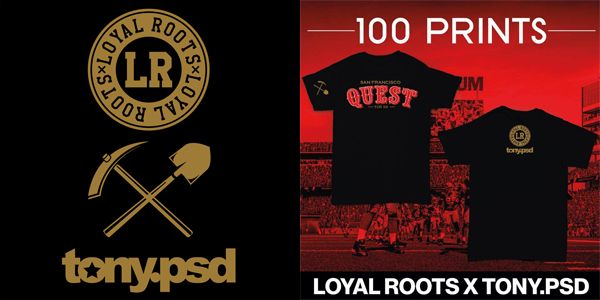 My first collaborative project with fellow designer
Loyal Roots
is set to drop next week. It's a pretty exciting time for both our brands - I've seen the Loyal Roots Fam within the past year release some pretty hype designs - a clear read in presentation that would immediately make me say
"damn, thats freakin' awesome, why didn't I think of that?!"
about a year ago, LR had mentioned
"we should collab on a project together"
and that day is here.
Our
"Quest for Six"
design is def on point, one thing I've always been pumped about in any collaboration is how brands present themselves on the tee separating both logo's with a simple
"X"
in between. You look at it and say "oh dang, they teamed up" on some Marvel Team Up sh*t, lol. The Miners pick & shovel is a nice effect, tipping our hats to our SF inspired design. Look for it next week!