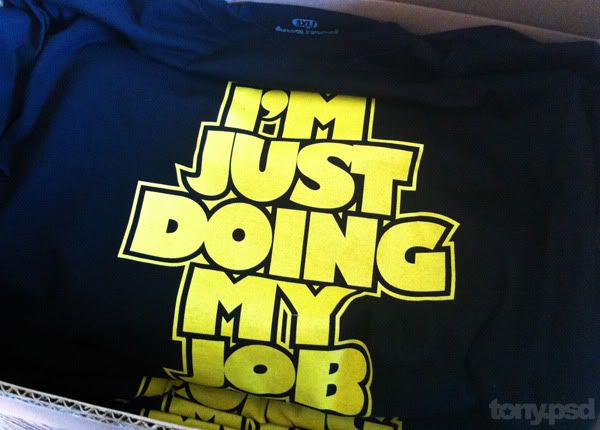 For those of you that know, this was my very first shirt release under the Tony.psd brand. Long before I had an on-line store or a design studio. I kept my orders small, posted a few pics on
my Facebook page
and sold it out of my car trunk via
"word of mouth."
We've come a long way from that, lol. The term
"I'm just doing my job"
was a quote Manny Pacquiao minutes after knocking out his opponent Ricky Hatton. That symbolic quote still has the same meaning today but with the humbleness of just doing what you do best.
For the first time since 2009, this shirt has been reprinted (men's small - 3XL) to celebrate my 3 year anniversary of what I love doing most: being creative. It's been a pleasure designing and creating these fun designs, I absolutely appreciate the business and your continued support!
Order "I'm just doing my job" at my shop:
www.tonypsd.bigcartel.com