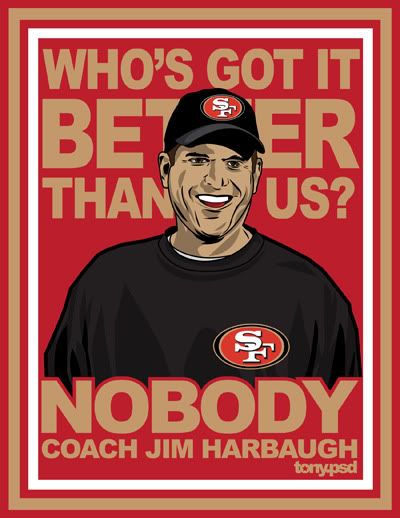 "Who's got it better than us? NOBODY!"
Coach Jim Harbaugh, 49ers Head Coach.
What a season... and we're in the playoffs! Congrats San Francisco, you guys deserve it! I've heard and seen the
"who's got it better..."
quote all over the bay area. It's inspiring and fitting to everyone involved in the organization along with it's fans. I've seen the variety in shirt designs and fan related art so I decided to do a little some special on my part and a supportive fan. Going the vector illustration route, I decided to capture the Niners head coach who helped this losing franchise rise back on top. For the look, I wanted to give it that "The army wants you" look but in red and gold. Enjoy and good luck this weekend 49ers!