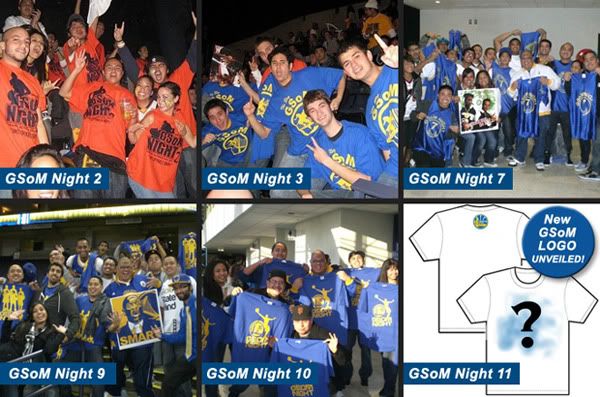 It's about that time! GsoM Night 11 has arrived! Has it been that long? I've been attending these events since 2007 and it hasn't let down. Our GSoM Night events are for everybody: We offer discounted ticket prices, free t-shirt give aways, special events after the game… Get together with a large group of your friends and fam and just have fun! Think of it as a big party amongst Warrior fans!
Ticket options:
Warriors vs. Pacers Friday, January 20th - 7:30pm tip off
• Club 200 Corner/Baseline: $16
• Club 200 Sideline (rows 10+): $19
• Club 200 Sideline (rows 1-9): $27
• Lower Level Corner (rows 18+): $45
After the game there will be a Post-Game Free Throw Contest. The winner will receive a FREE pair of premium tickets to a future game. But wait if you read the fine print there's even more... The GSoM Night 11 t-shirt will unveil
the brand NEW Golden State of Mind logo!
Click here to purchase tickets.
Dana Knops
is our contact for Group Sales/Events.