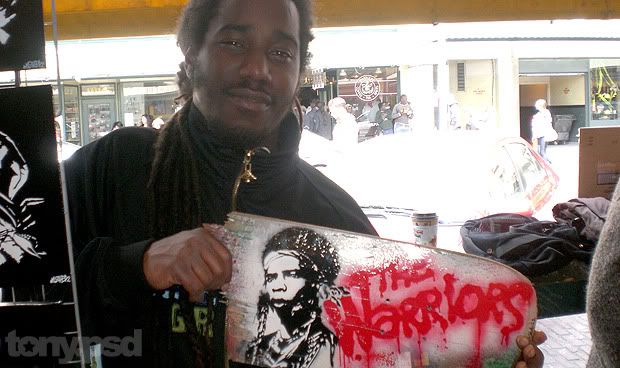 Artwork by Asher of Graff Roots fame, Custom airbrush and graffiti artists. Seattle, Washington.
During my visit to the Cannery Market in Seattle last month I met a local street artist named
Asher
with booth set up alongside other local merchants. The first thing that caught my eye was this stencil air brush piece he had drawn out on a skate board. Of course the artwork depicts one of my favorite movies ever:
"The Warriors"
(1979 film) I just had to have it! After purchasing this one of a kind piece, Asher and I chopped it up a bit sharing each others artistic backgrounds and exchanged contact info. I'm hoping in the near future we can collaborate on a future project, perhaps a shirt design of some sort. It was just great seeing his set up and hip-hop culture illustrated through art. Be sure to check out his site for more samples:
www.graffroots.blogspot.com